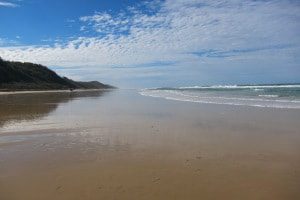 Fraser Island Fun
Fraser Island was one of the amazing surprises during the trip. To be honest.. I did not know too much about Australia beforehand. Some of my travel mates already knew Fraser Island and could not wait to see it.
"Fraser Island is the largest sand island in the world" (East Coast Australia, Lonely Planet 2011 > the updated version: East Coast Australia (Regional Guides)
), inscribed as a World Heritage since 1992.
Guess which size it has? Scroll down and check it on the map… what do you think? I would have never thought that it is 120km by 15km. Here we go again. It just shows that Australia always looks smaller than it really is.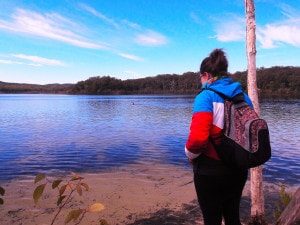 We decided to do a day tour because we did not have much time to travel the east coast. You can actually stay there longer but due to our tight schedule we decided to do a day trip which was absolutely amazing and worth it.
The 26th of
June started early because we had to be at the fairy at 8a.m.. Once we were on the Island, our first stop was Lake McKenzie. We had enough time to take a swim but all of us were too lazy and it was too cold to go further into the water than just with our bare feet.
Rainforest
Our next stop was the rainforest. A small stream runs through the island which is just stunning to look at. The crystal clear water runs through the sand which is surrounded by the rainforest which makes it unusual to the ones we are used to.
It was quite interesting to drive on the island due to the sand. The special busses could easily drive through the sand. If you get sick easily you should take some travel pills because the ride is quite bumpy.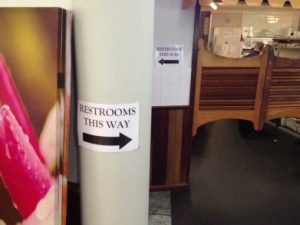 Then we stopped for a lunch buffet which was a good, refreshing an dreenergizing break. Afterwards we drove on the beach to have stops at sights. One was a beautiful greek and the other one was a shipwreck which was breathtaking to look at. On our way back we could have taken the plane…I didn't use the opportunity even though there was a chance to see wales. To be honest.. I did not know too much about Australia beforehand.
During the ride we recognized the fabric of the seats in the bus. Look at its pattern. I guess that is something you will only find in Australia. I loved it!
And of course our mascot was with us 🙂
So what do you think? Is that one of your next stops? Or you have been there? How did you like it? Let me know all about it.
cheers
eva 🙂
[googlemaps https://www.google.com/maps/embed?pb=!1m18!1m12!1m3!1d3695333.5211291267!2d150.91005796335796!3d-25.246214679656187!2m3!1f0!2f0!3f0!3m2!1i1024!2i768!4f13.1!3m3!1m2!1s0x6bec611edcdb3a03%3A0x98baa8d13ccf80f3!2sFraser+Island!5e0!3m2!1sde!2sde!4v1461868637801&w=600&h=450]