When I travelled to Agadir in October of 2019, I was quite happy about the things I could do and see while I was around. When we did a day tour to Marrakesh, our tour guide also told us that there was an earthquake in the 1960s which destroyed everything. It was mindblowing to know how quickly they build this new city. Within the next lines, I am happy to share the things I enjoyed doing and seeing in Agadir and hope to give you the inspiration to visit the city.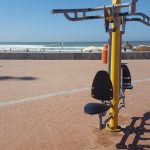 The Beach in Agadir
The absolute soft sand and the length of the beach will give you enough miles to have a walk or a nice run. At the one end of the beach, you can also visit the small harbour that also exists of a few (more) western shops. My dad and I had a stroll to the harbour one morning, had a coffee and walked back. It was lovely. While you walk to the harbour, you will also see the hill with huge Arabic letters, which are also shown with light during the night – it looks beautiful.
Sport in Agadir
If you are interested in outdoor workouts, Agadir is a nice place to practice that. Besides all the soccer matches, you can have a nice run or use the workout machines or tires that are around the beach.
The Souk El Had d'Agadir
The Souk El Had is a huge market in Agadir. Here you can pretty much find anything you need or not need. It is fun to go there, also if you do not need anything. I always cherish the atmosphere, to see the products another culture uses, how the locals communicate with one another in such places and so on. If you go more than once, as we did, I recommend to go in the morning and once in the afternoon. It is so much fun to see the difference of busyness of that place. Also, this might be the place where you want to get some amazing souvenirs.
At the markets you will also see the food they consume, here I LOVED the piles of herbs. They were so colourful and so bright! Also this might be a place to get great books if you run out of reading material.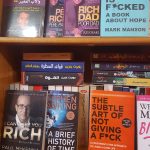 Doors in Agadir
While walking in Agadir, my sister and I were amazed by the beautiful doors in the city. It was also interesting for us to see that every main entrance door always had a "securing" door as well.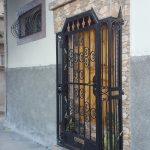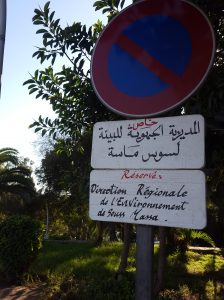 Language in Agadir
YES in my case, Morocco is not my home country thus, the language is a bit different. I am always happy and amazed to see common signs in another language. It was just nice to pay attention to all of them around the city. For me, StreetArt is also part of a communication tool. Definitely keep your eyes open for that, legal and illegal ones, in Agadir.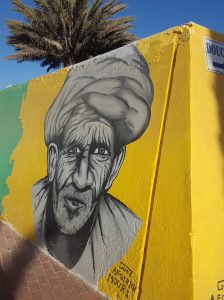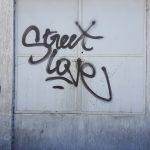 How to get around – Taxi in Agadir
Grab a taxi. We always took the orange ones. There are yellow ones and oranges ones. We were told to get the yellow one though to me the orange ones looked less touristic. As always when taking a taxi, I check the price BEFORE I enter the taxi. Once you are sitting it is hard to argue about a price, especially not at the end of your taxi ride.
Mosques in Agadir
I am always amazed by different houses for God. And do to the fact that I know many people who have never seen a Mosque, from the inside and outside, pay attention to them in Agadir. I think they are gorgeous. And in case you have not visited one yet, check out whether you can in the city – I did a few times in Germany and I think it is absolutely worth it.
I hope you enjoyed this one and might be happy to explore the city now as well. Check out further articles, of where we stayed in Agadir and what we did while travelling Morocco.