After an awesome brekkie at the beach of Noosa we kept going north…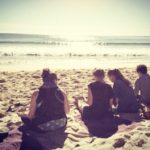 Rainbow Beach
Rainbow beach was mentioned to have "spectacular multicoloured sand cliffs and white sandy beach" (Lonely Planet (2011): East Coast Australia. p359). It was worth a visit and good to have a walk, but not as stunning as I expected.
Mary Poppins Fun
After our great stroll, we went off to Maryborough. I am sure you heard a lot about that place!? Of course you have not :D. BUT I am sure you know the most famous 'person' in that town: MARY POPPINS! This was so much fun to see a life-size sculpture of her. Maryborough is the birthplace of Mary Poppins author: Pamela Lynwood Travers.
A Real Camping Ground
That night, we stayed at a normal camping ground and our excitement was big to do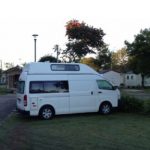 laundry, have a hot shower and an open air kitchen. The night was short because we had to catch the ferry at 8 a.m. to go to Fraser Island.
The days are full of new experiences and writing that blog makes me go through them again. I am blessed and happy that I was able to go on that roadtrip with amazing four friends. The next entry will include Fraser :).
Cheers,
Eva:)