We picked up our camper van and hit the road. Our next big stop, after Brisbane, was Surfers Paradise. I guess the name says it all. Additionally, the place is well-known for its parties. It is definitely a nice place but due to the cold weather we did not even go into the water.
Our Camping Ground
Our first "camping ground" was directly at the beach. Camping on the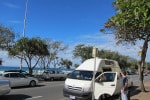 streets is illegal, but we gave it a try. Camping near the beach is great because it gives you free access to public restrooms and showers. Skipping the camping ground definitely helps saving money. 🙂
Noosa
After Surfers Paradise we headed to Noosa which is located north of Brisbane. We actually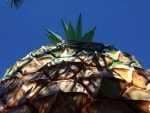 stayed at a camping ground that night close to the Glasshouse Mountains. As usual we stopped at the visitors center. The woman was so kind to let us know that one of the mountains is quite dangerous. Many people get picked up by a helicopter and some even die while hiking it up. Just after brekkie we hiked up one of the safe mountains. Exercise is just great to start the morning. The view was stunning.
The Big Objects
On our way to Noosa, we stopped at the "Big Pineapple". According to our guides,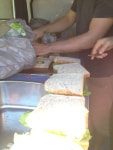 Australia has many oversized objects, and one of them was our next touristic stop :D. Not sure though why Australia started that. Sometimes it seems like they invent new touristic places to have attractions (sorry Australia 😀 ) . As usual, we had our sandwiches during that stop. Making sandwiches and having snacks are great ways to save money hence everything is so super expensive in Australia.
Eumundi: not worth a stop
According to our tour guides: Eumundi is a great place.. thank God we did not take a detour to stop there. We did not even spend a minute and  just drove through that town….
AND THEN… finally : NOOSA. The place is a holiday
resort for many Australians. The cafés, shops and the beach make it a perfect get-away. Our first stop was the visitor center. Once we parked, we also found our new camping place for the night. This was such an awesome spot.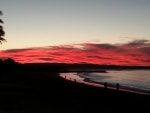 Directly at the beach <3. That is the place we had the best breakfast so far. AT THE BEACH. It was incredible.
Fun story of the night in Noosa:
For whatever reason… I am a granny and have to use the restroom during the night. Well….:D in Noosa I was also in need to get out of the camper. I did not know that the wood walk at the beach gets painted every night to keep it as nice as it is. Quite stupid when you walk through it because your sense of smell is not working yet :D.
eva 🙂