Surprise in Ehrelfeld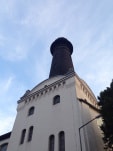 Ehrenfeld is a district in Cologne which is worth visiting for many reasons which I will introduce you to in different posts.
Today I am introducing you a quite obvious one which is still not known to many visitors of Cologne. Ehrenfeld has a lighthouse. YEAH 🙂 isn't that amazing?! A lighthouse in the city <3.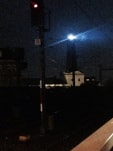 For a while I didn't believe it to be a real one but the other day I was happy to talk to an older citizen who explained me its story. The lighthouse was built by the electricity company Helios Elektrizitäts AG for the island Zanzibar. In 1890 the island became protectorate of Britain  in exchange with Helgioland. But because Helgioland already had a lighthouse the Helios Company just put it up on their factory. Some people even assume that the company just built it to have a massive advertisement.
The old man told me that the lighthouse used to have the 'normal' light of a lighthouse but
because of many complaints they have changed it to a static light. This light is switched on during every night :). I LOVE it.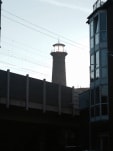 The other day I got super excited when I came to Ehrenfeld and the light was actually turning. I am thankful I got a video of that because it seems like they have done it just for one night.
So if you are a lover of lighthouses, of amazing places, of things you wouldn't expect or you happen to be in Ehrenfeld you should go and have a look at the amazing lighthouse!
The lighthouse is in the street: Heliosstraße. It is directly at the train as well as different subway stations.
cheers,
eva 🙂
[googlemaps https://www.google.com/maps/embed?pb=!1m18!1m12!1m3!1d2513.5584583261552!2d6.91111781574954!3d50.95037827954742!2m3!1f0!2f0!3f0!3m2!1i1024!2i768!4f13.1!3m3!1m2!1s0x47bf253934ed34b3%3A0x25d8cbd4633633ad!2zSGVsaW9zc3RyYcOfZSwgNTA4MjUgS8O2bG4!5e0!3m2!1sde!2sde!4v1446535654598&w=600&h=450]