12.02.2016
As already mentioned, I traveled to Thailand without a plan. All I got was a travel guide. Therefore, I did not have a route or a clue where to go. After talking to many travelers as well as locals, I knew that I wanted to travel through the country before heading to the beach. I think it is usually the best to talk to other travelers and locals in the country to get the best suggestions. Furthermore, I knew that going to the beach would also mean that I would not leave again to see the countryside. Additionally, the prices were quite high around the coast due to a holiday and weekend which would draw many locals to the islands as well. I was happy to meet a super friendly traveler who suggested me to go north and stop in Ayutthaya. Usually, many backpackers skip the places between Bangkok and Chiang Mai and travel directly (via plane or night train) to Chiang Mai. By the way my suggestion: Whenever you are planning to take a night train and want to have a sleeping seat make sure to book the ticket early. Even when people tell you that it would not be a problem, better book a ticket in advance. You do not want to be stuck in a place where you have seen everything and if you have little time you probably do not want to travel during the day.  The girls' recommendations and her sparking eyes about Ayutthaya made it an easy decision to make it my next destination. She visited that place before and thought about going there again, which obviously shows me that the place is worth traveling to. AND IT WAS. A place with awesome locals, fewer tourists and amazing things to see.
How to get from one place to the other? You got different options which vary in price and comfort. In general, in Thailand you got the following options between cities: Taxi, minivan, bus, train. Within my travels I pretty much used all of them at some point. It all depends on your time, money and preference of comfort.
For Ayutthaya, I decided to take the train because I knew it would be a ride of only two hours which would give me an insight of their trains and way of traveling, as well as giving me a clue whether I would want to travel via train longer distances.
My hostel in Bangkok gave me the directions and told me which bus to take to the train station. It was way much easier and more fun than expected. Once I got onto the bus, I made it clear that I need to get to the main train station. For those who have a common 'western bus' as well as transportation in general in mind, in Thailand: the buses just stop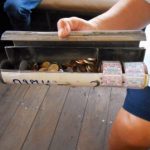 without mentioning the place and I could not tell how many stops would bring me to my destination.  While paying I was once again super amazed. The guard has a box with change and tickets. And the whole process of paying, getting change and the ticket are fascinating fast. Just amazing! Really. It is already worth taking the ride. On my last day in BKK, before leaving for Germany, I was able to take a picture of a woman, thanks to a local friend who translated for me. During the bus ride, I got a bit nervous once in a while whether I am really on the right track. At some point, we all had to get off and get into another bus. I am still assuming that the buses meet at this point due to their route and you can go further and a different way through using the other bus. Thanks to the locals, I felt better because they kind of took care of me and made sure I took the bus, got off at the right place and did not pay twice. The buses are super cheap but if you do not want to pay twice make sure to remember where you put the ticket in case you need to switch buses, like I had to. Usually, I randomly speak to people until one will understand me. This time all worked out again and a bunch of locals made it clear when I had to get off. During the ride I was also happy to meet someone from Hong Kong which was a fun guy to talk to.
It was quite confusing when I got to the main train station. In front of the building were people who would ask you where your destination will be. At first, I thought it was something to fool me. But they actually just answered me that my train would be leaving soon. That was interesting and I wonder if that is their real intention. At the counter, I told them my destination, Ayutthaya, and showed them my destination on the map. I usually show a map because I am sure I would be absolutely wrong with the pronunciation of the places I go. The ticket was cheaper than I would have ever expected. 15 Baht for a two hour train ride, though without ac. Isn't that amazing?! The train ride was fun. It is a good way to see more of that beautiful country and get an impression of its landscape. Additionally, the culture within the train is amazing due to its service of food and drinks. During the train ride, I asked people whether the upcoming station would be my destination because I wanted to make sure to get off at the right place. Once I got off it was easy to get to the hostel. To get to Ayutthaya, which is basically an island, you take the ferry which costs only 5 Baht.
After my check in, I left to explore the city. I walked around for hours, had lunch and took the ferry again because I ended up on the other side of the river. During the ferry ride I
randomly talked to a guy because I really liked his T-shirt "thinking too much causes problems". We both ended up spending all evening, having drinks and walking around the city because the Chinese New Year's festivities were going on.  It was great to have the festivity to see more Thai things, e.g. games, chorus as well as more fancy food. I was super happy that I got to meet that fun, cheerful guy. His English was just great because he lived in the States for a bit as well. It was a great day, meeting locals, visiting a new place and experience a place that has fewer tourists.
Once I got back to the hostel, I was happy to meet another local in front of my place. I am beyond happiness to call him a friend now. To read more about my journey and my new Thai friend: keep yourself updated about my blog, register via mail and like it on Facebook and you will see how the story goes on.
Cheers
Eva 🙂
Facts of the day:

Book (night) trains ahead if you want to travel first class and/or during the night.
Keep your bus ticket in case you need to switch buses.
Always have a map with you.
Ayutthaya: amazing locals, fewer tourists, beautiful place.
[googlemaps https://www.google.com/maps/embed?pb=!1m18!1m12!1m3!1d30922.695694804534!2d100.5506419502152!3d14.349900885841128!2m3!1f0!2f0!3f0!3m2!1i1024!2i768!4f13.1!3m3!1m2!1s0x30e2743101e7fc31%3A0x3019237450c51e0!2sAmphoe+Phra+Nakhon+Si+Ayutthaya%2C+Ayutthaya%2C+Thailand!5e0!3m2!1sde!2sde!4v1465555630271&w=600&h=450]