When I travel I LOVE connecting with locals. This is probably one of my favourite parts about travelling, but also in my hometown to be honest. Meeting locals is just magical. You get to know a tiny bit of their sparkle which might be really just a glimpse but already mind-blowing. For whatever reason, it seems very easy to me to meet locals who are happy to exchange with a great chat, a coffee, lunch or even spending days together while I am in the same city – all happened. I actually have quite a few friends that I met as random as I do meet locals while travelling. So here are my quick tips which you can use to get in touch with locals, whether while travelling or at home.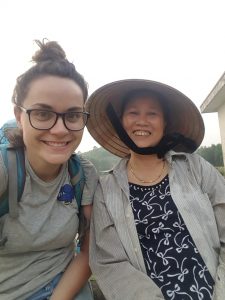 First Tip of How to Connect with Locals: NO PHONE
This might sound quite obvious for some of you, but I can tell you – for many out there, this is new. At the moment I am living in a hotspot in Cologne and I see travellers pretty much every day (also because of my job 😀 ). And it is always fascinating that some people rather stare for ages on their phone to get directions instead of asking locals. Come on – where are we going with this? Look at the people going out… some do not even communicate anymore. I can tell you if you do not use your phone as much, chances are rising of connecting with locals.
If you are walking around a market, sitting in a coffee place. Imagine. Who would you start talking to the one with the phone in their hands or the one enjoying their coffee up for a chat?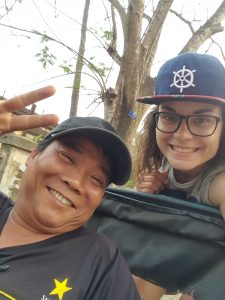 Second Tip of How to Connect with Locals: Be curious
If you want to get in touch with locals, be aware that you will actually talk. Be curious. Why are you keen to get to know that person? Do not let the other person do the "work". A conversation consists of at least two people. SO: be curious. Ask, talk, chat – get to know the person, their life/style, area.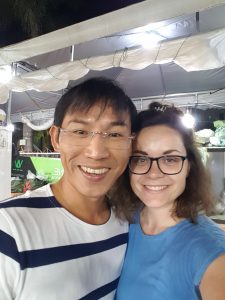 Last and most important: Go where locals go
Yes, simple as that. If you master one and two but are not surrounded by locals it will be a challenge to get to know them. Do not stay inside hostels or hotel parks or just go touristic places. GO and explore, go where locals go. You can also ask the reception whether they have recommendations or just ask them for their favourite places to go out, eat, drink.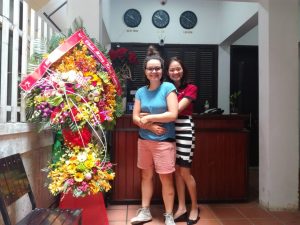 Simple Ways to Connect with Locals
Everything seems easy once you know it. Do it. Go. Explore. Meet amazing humans. Connect. I think at the end that it what really matters to me. Connecting with people. Getting to know their sparkle. Show them their sparkle. Getting to know new cultures, the differences to mine.
Enjoy your next trip and let me know whether this was helpful!? AND do you have additional tips to my main ones?
[All the pictures are from my trip through Vietnam in March 2019. And this is only a tiny selection of locals I met.]