My Blue Mountains Weekend
The Blue Mountains in Australia is one of my absolute favourite places in Australia and around Sydney. It is just magical. If you need a break from the city or just starting your travels in Australia, this is where to go. It is breathtaking and shows you what nature has to offer. I was there during my first time in Australia in 2013 as well as in 2019. Both times for a weekend.
A Blue Mountains Weekend: how to get there
I have been twice to the Blue Mountains as mentioned above. The first time we rented a car and at the beginning of 2019, we went by train. Both ways wer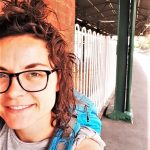 e just fine. With the car, you have the common benefit that you do not rely on the time of public transportation.
Additionally, you have to keep in mind that public transport in Australia is a bit different. Thus, my friends and I were quite shocked to see that there was no bus returning to Katoomba later on a Sunday after our hike. We still decided to do the track and were happy to walk to the next train station after the hike. It was fun because we ended up hitchhiking which made this trip even more adventurous.
A Blue Mountains Weekend: where to stay
I can fully recommend the Blue Mountains Backpackers in Katoomba– that was the very best hostel I ever stayed in. ( I do not get any benefit for recommending them beside Karma points. hehe. 😉 ) It was insane. We were welcomed as we were the first guests walking in. Super friendly and v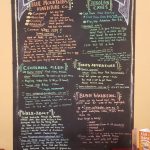 ery informative. The hostel also comes with a big kitchen, a huge common room and even a TV room where you can watch a huge variety of movies. Additionally, I want to mention the benefit of being able to wash your clothes at the hostel FOR FREE (!!!) I did not use it but I had to mention it as I never heard of it before and for sure I know the need of washing stuff while travelling. Def a place I would highly recommend (I stayed there in 02/2019).
Additionally, I must admit that I was blown away by the free BBQ. Everyone who has travelled for a bit longer in Australia knows that free BBQs are common and usually supplied with cheap and easy food. Not here though. That free BBQ was full of fresh veggies and cooked dishes. The owner was cooking pretty much all day for that dinner. I also took a picture with him as this was just one of these people you meet in life and are full of inspiration.
A Blue Mountains Weekend: what to do
Hike
Obviously, you can hike in the Blue Mountains. I guess that is the main reason why people go there. There are quite a few trails, differing in level and length. Make sure to take enough water with you and a snack. This time we did Prince and Great Canyon. And do not worry at all, once you approach the "Three Sisters"(a mountain formation 😉 ) you will also have an information centre.
Have a coffee or two or more
As some of you might know, I really love coffee. Thus I checked out a few places to have a coffee, a snack, lunch or dessert.
We had a great time at the Coffee place "True to the Bean" which is on the main road. They were super kind as we had a fantastic chat. Also, they took good care of me and my food intolerance. Another fun one is the "Pirate Coffee place" just next to the roundabout. And a bit further towards the "Three Sisters", you find a great place to sit outside and stroll inside, buy some cute things, grab a free book or just relax: The Gingerbread House.
Art around the Blue Mountains
I am a big art lover as you might know (latest you will recognize it I guess as I am giving Street Art Tours in Cologne 😉 ). Thus I was so happy to go back to Katoomba which has so many arty things to offer. Thus I want to dive into it and you can choose which might be suitable for your trip. Enjoy,
Street Art Walk
There is a Street Art Walk in Katoomba! I LOVED IT even though it seemed a bit like it is just done to attract people. Colour in the city is always good I think. Go have a look and get inspired, take great pics and if you are an artist, I am sure it would be a good place to leave something ;).
This gallery was so much fun – I LOVED it. It reminded me of one from back in the days in Cologne. Art that is different, that makes you curious and rethink some things. Go have a look and let me know what you think.
Ukulele Festival
When my friend and I arrived we were already a bit confused about all the Ukuleles that we saw. The people on the train, the shop windows – everywhere were Ukuleles. At some point, we got to know that we bumped into one of the biggest Ukulele Festivals. LUCKY US. I was super happy as it is a point of my bucket list to learn the Ukulele. When we still did not know about the festival, my friend kept telling me that all the Ukuleles were signs for me to buy one. It is every year, so just google it and see whether you will be around for the fun. It is usually around February. AND do not worry about crowded places. I was shocked that there were not too many tourists as I think it is absolutely worth visiting.
[I will check all my pictures at some point and will add more]